The gallery features a selection of Karl's kites many of which are custom made, plus other constructions.
Empire Windrush
A different view to that seen by most on 27 July 2012.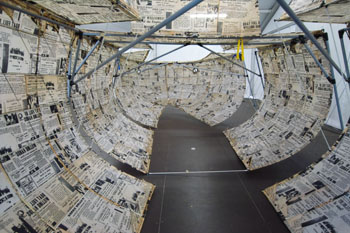 Blockhead Train
The Blockheads were put together as a train for the first time in 2011;
they flew very well.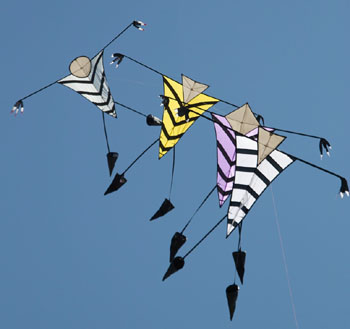 Flamin' Pterodactyl
By special request, a large sized Icarex Pterodactyl Kite bearing the flames usually seen on a Phil Scarfe kite.
Commissioned by Collin Marshall.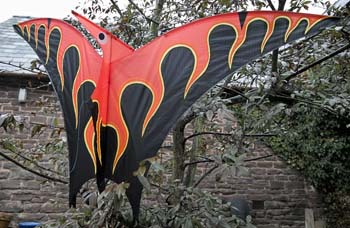 Jabberwocky
This was made for the stage production of Alice through the Looking Glass for the Theatre Royal in Bath; November 2010.
It is based on the pterodactyl but with a 3.5 metre span.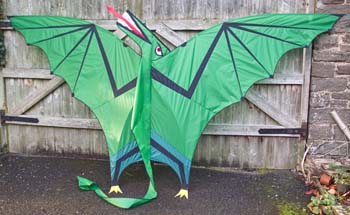 Tie Dye Patchwork Rokkaku
A special commission for David Gomberg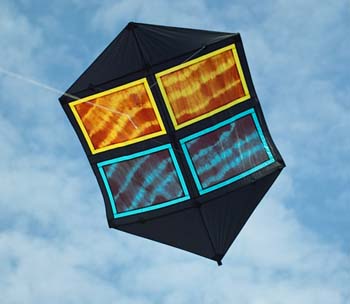 Steiff Roloplan (No. 4 from Walter Diem's book)
A recent commission for John Dobson who kindly supplied the photograph.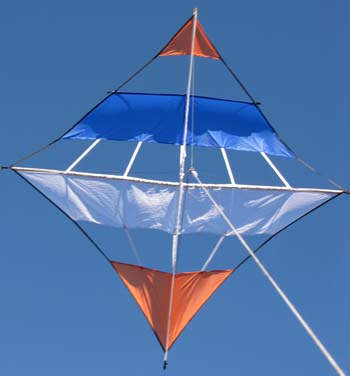 The Sportsman's Kite
This kite is a modern version of an historic kite made by Dart's Kite of the UK back in the 1880's; a commission to replace a very fragile original made from silk.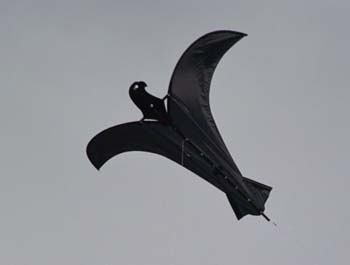 Rocket Kite for Aintrocketscience
This kite was commissioned by Jon Sutton of Aintrocketscience to help launch the new website www.aintrocketscience.co.uk.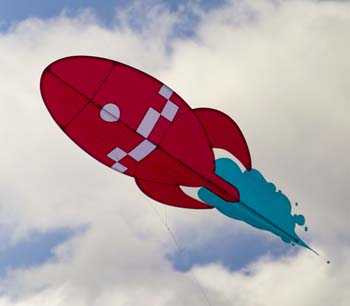 Dove Kites in Dieppe, New Brunswick
The Dove Kites were first commissioned by Dave and Marie Coombs for their Wedding at the Brighton Kite Festival in July 2009. Karl made this pair of dove kites to fly in the kite competition at Dieppe, Canada in August 2009.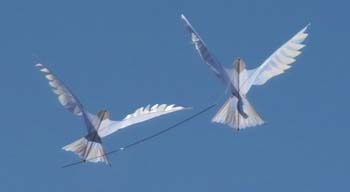 Pterodactyl Train
Karl's popular design flown as a train at the Berck sur Mer Kite Festival in April 2009; they behaved quite well for a while.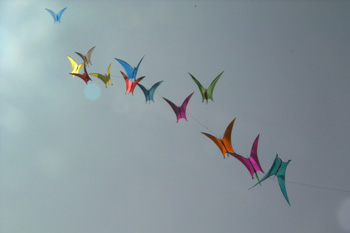 Double Parasleds
These kites were made as a matching pair in 2009 for a Kite Altitude Record Attempt (KARA), currently missing in action.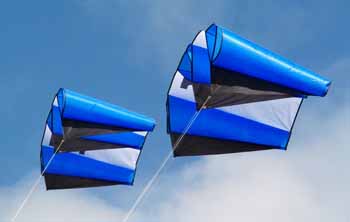 Blue Peter Rokkakus
These kites were ordered by the BBC Blue Peter team for flying at the Bristol Kite Festival in September 2008. The programme was broadcast on 23 September 2008.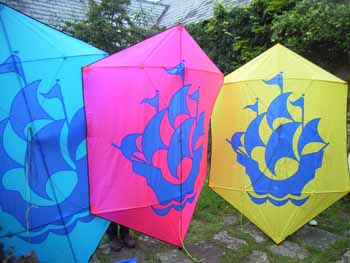 Weymouth Star
This kite was designed for the kite creation competition at Weymouth Kite Festival in 2008; the kite had to incorporate a length of gauze.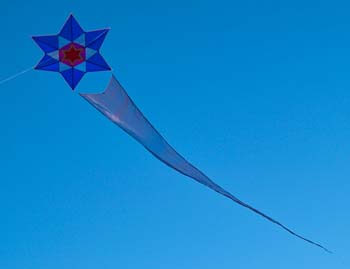 18 Wing Salmon Kite
The prototype of Karl's commission by John Dobson made in 2008; a copy of an 18 wing kite designed by Salmon in 1907.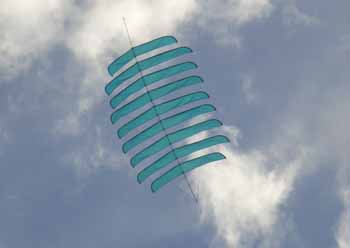 Pyrodelta
Commissioned in 2008 by George Webster; a white Pyrodelta.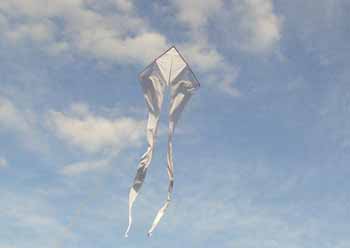 Kranki
Commissioned in 2007 by George Webster; a Genki with a difference.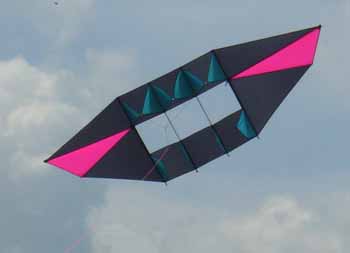 Pomoceff
Also commissioned by George Webster; this is the prototype.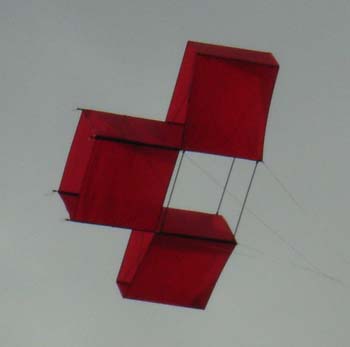 Sauls' Barrage
One of a number of box kites displayed by Karl at Swindon Kite Festival in 2007.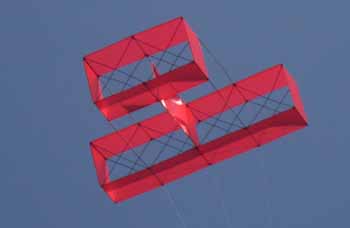 Woman Kite
Karl's prize winning entry into the Dieppe Kite Competition in 2004. Made from newspaper cuttings on muslin and ripstop. His stack of Bees (above right) made for Dieppe in 2002 also won a prize.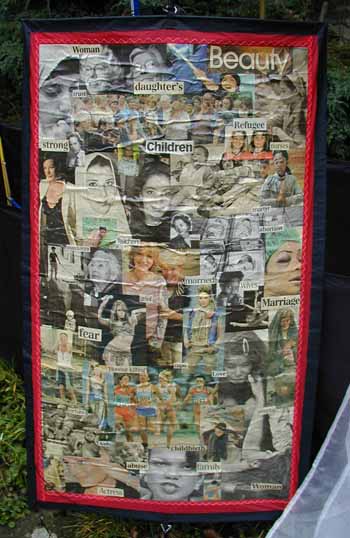 Carp Edo
This kite was originally commissioned by Alan Gilbert.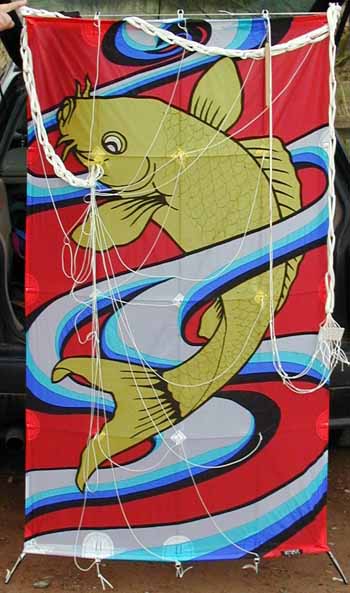 Tie Dye Shorts
Uniquely patterned shorts, first seen flying in India, January 2008. This pair are owned by Bob Cruikshanks.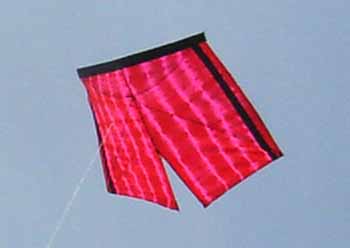 Jamaican Pants
Custom made for Courtney.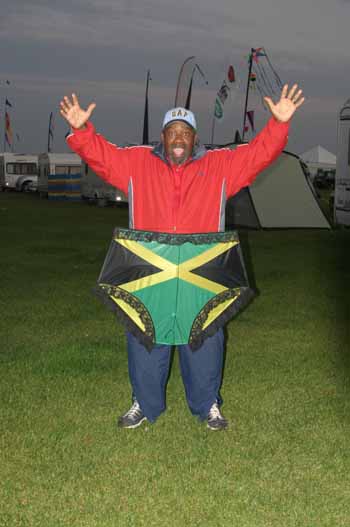 Pants & Shorts.
Kindly modelled by Mitsuo Yokoyama, his wife Toshiko and Karl.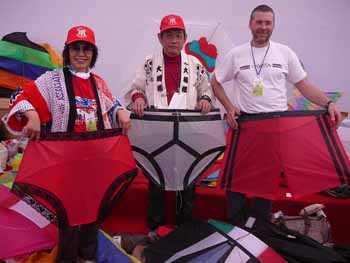 Iris Rokkaku (2.4m)
This Kite was made for the 2001 Sunderland Kite Festival Auction, and was bought by John Dobson.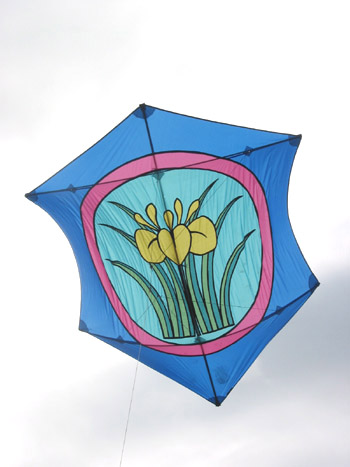 Crane Rokkaku (2.4m)
Made for Bryn Baggaley who wanted something a bit different.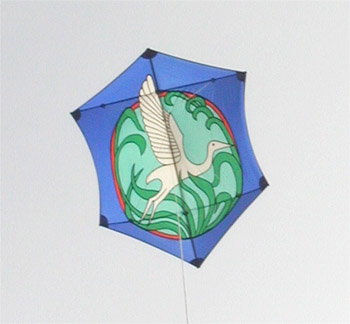 Kiss Two Edo
This is the first Edo made by Karl in 1995 and is still flying. The graphics are taken from Litchenstein's pop art classic Kiss II, but executed in black and white. The kite confuses many people as it is difficult to 'see' the graphic until the kite is in the sky.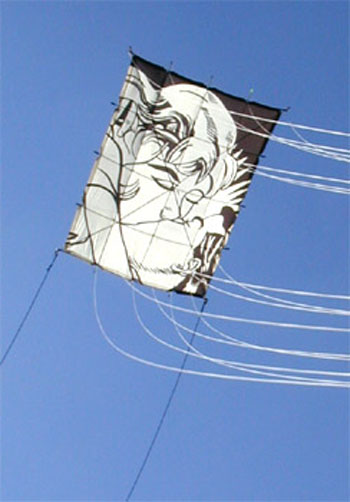 Hereford Fighter
A large rectangular kite with patch work decoration inspired by Native American textiles.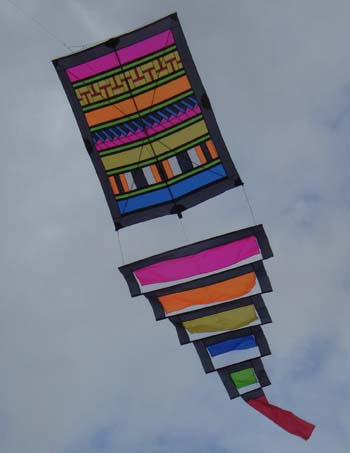 Multi-jib
A modern version of an old Mark Cotterell design.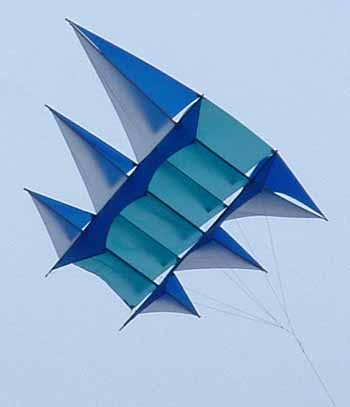 Friendship Kite
This 100m long kite was a special commission by Sunderland Council in 2005 to replace the existing Japanese built Friendship Kite.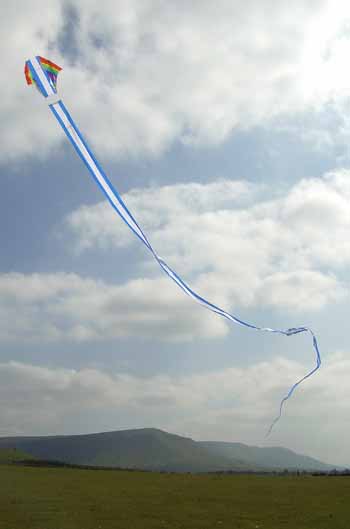 Brogden
Commissioned by John Dobson.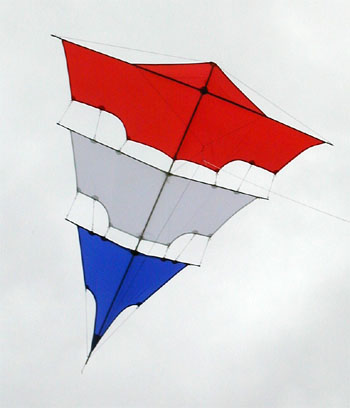 Sky Symphony Banner.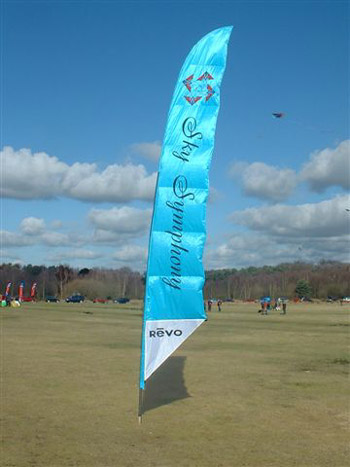 Iris Rokkaku and Steiff Roloplan photos by John Dobson.
Sky Symphony Banner photo by Lloyd Kirton.