Karl, his wife Sara and fellow Hereford-based kite builder Peter Taylor (www.airdynamics.co.uk) up until 2015 have been sponsors and organisers of the Herefordshire Kite Festival held at The National Trust, Berrington Hall, the third weekend in July.
Karl and Sara have held Indoor Kite Events at St Joseph's Catholic College in Swindon, two per year since 2012. As well as a number of overseas festivals, they have accepted invitations to Weymouth, Bristol and Downhill Demesne.
Olympic Games and Paralympic Games, London 2012.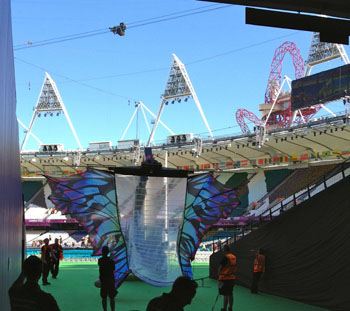 As well as attending kite festivals around the world, Karl and Sara became involved in projects for both sets of Olympic Games, making the Windrush for the Opening Ceremony of the Olympic Games and a pair of Butterfly Wings as part of a piece for the Closing Ceremony of the Paralympic Games.
Wedding of the Year, May 2011.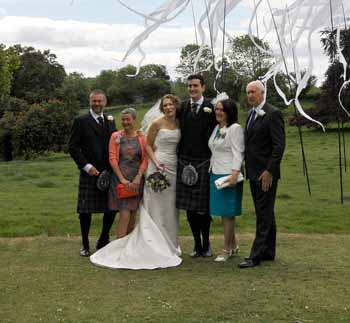 It is not every day your only daughter gets married, this will be one of the most memorable events ever for Karl and Sara. However, never missing an opportunity, they did add to the occasion by way of a static display of banners as seen in Bristol, Dieppe France and Berck sur Mer.
Kite Night, Bedwelty Show, Blackwood. August 2010.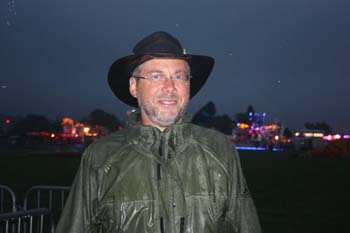 This has to be the most memorable event of 2010. The rain was never ending but the support received from fellow kitefliers who continued to perform in the truest manner of 'the show must go on' was tremendous. Thanks go to AWITA, Ralf Maserski and Family, The Flying Squad, The Airheads, The Grumpy Old Gits, The Beatties, George, Steve, Dazzz, Dave H, Dave N (with camera), Bob, Mike and finally Ceri and Jan for the never ending hot drinks.
Cape Town, October 2009.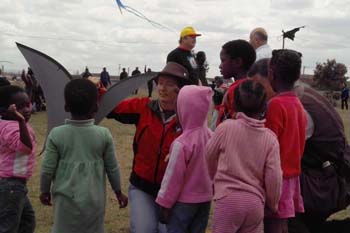 Cape Town Kite Festival is organised by Cape Mental Health and two days before the main festival we flew our kites for the local children in Khayelitsha.
Bristol, September 2008.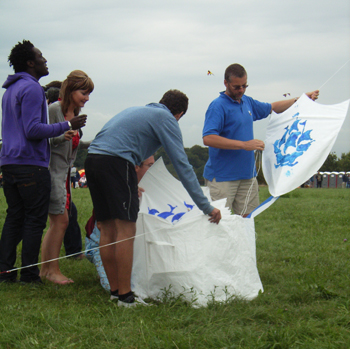 Karl was asked by the BBC Blue Peter team to design a shield shaped kite that could be flown on its own or as a stack of fifty. Here he is being helped by the presenters Joel, Helen and Andy.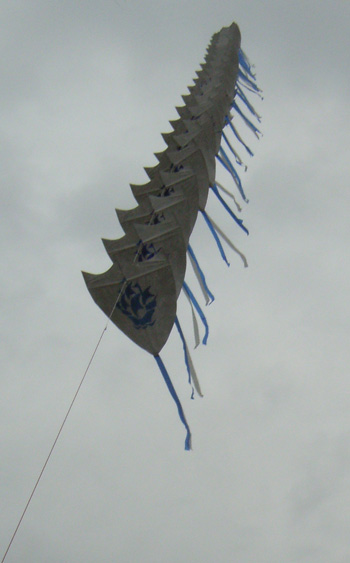 The idea of 50 kites was to help celebrate 50 years of the programme.
Mangalore, January 2008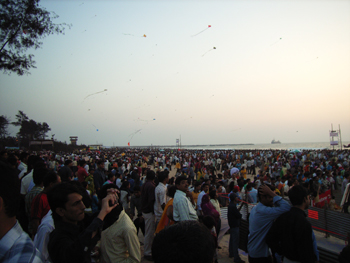 There were so many people on the beach at Mangalore, it was difficult to see the sand.
Gallery Exhibitions
Karls's kites have featured in a number of exhibitions.
Brunel Centre, Swindon. December 2006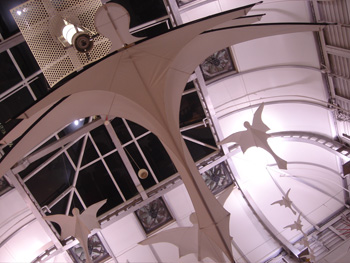 Angel Kites by Karl Longbottom, Angel Sculpture by Carl Robertshaw.
Scunthorpe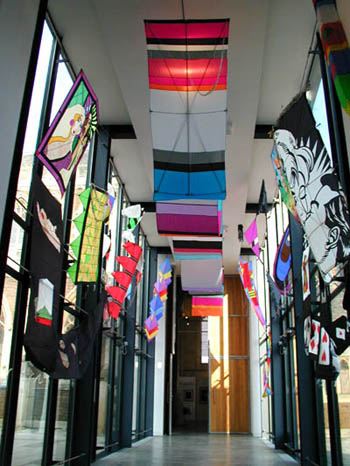 Kites by Karl Longbottom, Franchesca Caton, Carl Robertshaw and Michael Goddard.
Hereford